Flexzilla Garden Hose Review – Worth the Money?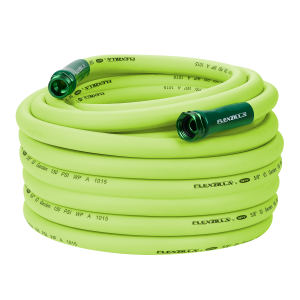 The Flexzilla garden hose is a top of the range, premium hose made by Legacy manufacturing. With a distinctive lime green coloring and made from a lightweight polymer the Flexzilla has many different features that keep it ahead of the competition.
For starters the lightweight polymer it is made of allows it to remain flexible whatever the weather conditions when you're using it.
Obviously it is extremely lightweight as the term lightweight polymer informs us, but it also means it will not kink under high pressure.
It can withstand up to 150 psi, due to this the Flexzilla won't kink and will remain at peak flexibility the entire time you use it. It also lies perfectly flat whether it is being used or not, and has no memory so stays still no matter what device you plug it into.
With all of the features their website provides out of the way I can start to tell you my experience of the Flexzilla. It really is like their site says, extremely lightweight. I hardly knew I had it in my hands when I first connected it to my outdoor tap.
I have rather a lot of trees in my garden so I was looking forward to testing out the flexibility that they advertised and it really did deliver in spades.
I had absolutely no problems maneuvering around the mini forest at the foot of my garden and there really were no kinks as I watered my begonias.
The lack of kinks was even more apparent as I turned the tap to full and the pressure increased. The was no movement of the hose at high pressures as I moved around my garden, which I was really surprised about considering just how lightweight it actually is.
The hose that I purchased was the 75 foot version. While it is not cheap, it is certainly good value for money, as I have had this hose far longer than I had my last hose and it is showing no sign of wearing out any time soon. Apart from the steep price, the only real negative I can see with this hose is that it is difficult to coil away.
Even though one of the features they have advertised is that it coils easily, I really did struggle. The lack of memory in the hose itself seems to work against it when trying to coil it as it just won't stay in position long enough to get it all put away correctly.
My positives are that it is good value for the cost, it is extremely flexible, it really doesn't kink at any pressure, there are no leaks either at source or on the hose itself and it is extremely light when carrying it around the garden. The only negatives I can see with this hose are that it is quite expensive even though it is good value for money and it is very hard to coil away correctly.
Flexzilla Garden Hose Review -Final Conclusion
I would recommend the Flexzilla to anyone who needs to use a hose for any reason. As the hose range goes from 3 feet all the way up to 100 feet in length it caters for pretty much any size garden and the flexibility and anti kink design allow for easy movement across even the most maze like garden.
It will out last any other hose on the market and do so while performing at a much high quality. It is one of the best garden hoses on the market today.
Blog post from WonderlandGardens.org